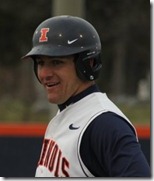 Yesterday, Illini Baseball Sports Information Director Ben Taylor posted a great article on the Fighting Illini website entitled Recent Draftees Say Illinois 'Does It Right'.  The piece is about Josh Parr, Corey Kimes and Adam Davis (left) and their transition from college ball to the pros.
All three having nothing but good things to say about their time here at the U of I.  The article pretty much reads like a testimonial for the Illinois Baseball program and how it prepared them for the rigors of professional baseball.
Bonus:  it includes the 2011 Baseball Highlight Video, too!
Related posts