It looks like the Illini are representin' in minor league playoff action in 2011.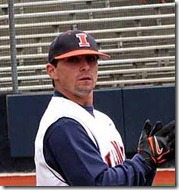 Joe Bonadonna (left, with the Illini) and the Greensboro Grasshoppers (Marlins Single-A) are seeing playoff action for the first time in 12 years.  They did in style too.  They won 13 of their last 15 games to win their South Atlantic League division.
Tanner Roark and his Harrisburg Senators (Nationals Double-A) clinched the earlier this month.  They won the Western Division of the Eastern League on September 1.  They had the help of big star Stephen Strasburg who pitched the clinching game.
The Missoula Osprey and Josh Parr (Diamondbacks, Rookie)are in the midst of a playoff series against the Great Falls Voyagers for the Pioneer League North Division title.  Josh is still in rehab from his injury from earlier in the year so it's doubtful he'll get in the game but I'm sure he's in the dugout doing everything he can.
Good luck to all!!!
In other news, Kyle Hudson got his first stolen base the other day.  The first of many to come, I'm sure.  And don't starting counting now but he has a three game hitting streak going.
The Baltimore media ran a photo with him in it a few days ago.
Related posts