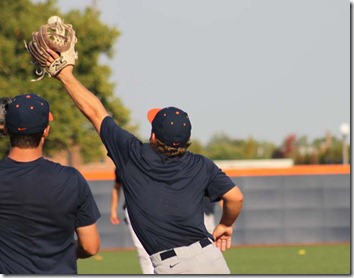 I stopped by practice again today after work.  I'm glad I did because I ran into my friend John Santas from the Dugout Club.  John always makes watching baseball that much more fun.
There was a special visitor at today's practice at Illinois Field.  Josh Parr, who was drafted just this summer by the Arizona Diamondbacks, was on hand to watch the guys and no doubt keep an eye on his brothers Justin and Jordan.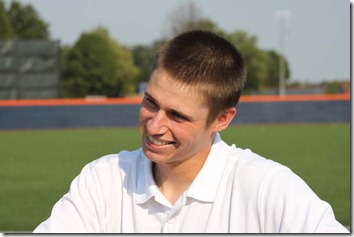 Josh regaled John and I with the story of how he got hit in the side of the face with a pitch while playing for the Missoula Osprey.  Parr said the side of  face ballooned up after the injury due to the shattered cheekbone.  As you can see from the photo, he's healed up well.  He's in good spirits too, true to Josh's form. 
Josh isn't in C-U for long.  He heading to Arizona for instructional league which starts Sunday.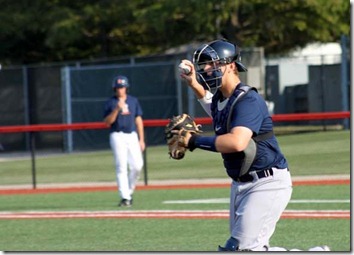 Alex Lincoln prepares to nail a runner
Speaking of recovering from injury, I spoke briefly to Nick Chmielewski (let's see, double check spelling, then add to spell check dictionary) today.  We haven't seen much of Nick in the last two seasons.  After three appearances in 2010, he went down with an arm injury and had surgery.  Now eighteen months later, Nick is in uniform and says his arm is feeling good.  He registers as a senior this year so we have him for one more year.  Thank goodness because we could use him.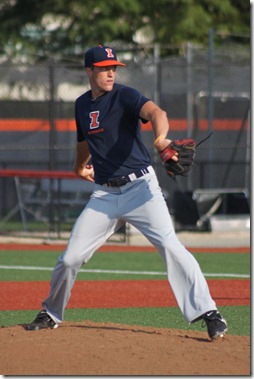 Drasen Johnson unleashes one from the mound
All in all, the guys are looking good.  The Orange and Blue World Series is tentatively scheduled for October 3-5.  I'm looking forward to some competitive head to head action.
More photos from today can be found here.
Related posts