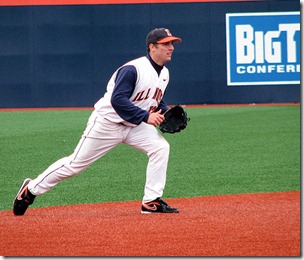 It's been quite a month for former Illini shortstop Brandon Wikoff.  First, he hit two homeruns in two games last week.  Then he was honored by the Astros organization getting the Minor League Defensive Player of the Month award for his team.
Now it looks like he's moving up to AAA ball!

Wikoff will be joining the Triple-A Oklahoma City RedHawks in the Pacific Coast League.
Wikoff was recognized for his glove work by the Astros for the month of August.  For the year, he's posted a .980 fielding percentage at 2B, SS and 3B and has helped turned 37 double plays.
Congrats, Brandon!  Hud is tapping his feet and waiting.
Related posts