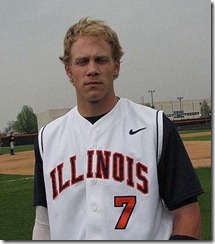 I'm a little late with this but some former Orange and Blue celebrated the Red, White and Blue this past 4th of July weekend.
Former catcher Lars Davis (left with Illinois) had a fantastic game with the Double-A Tulsa Drillers' record setting 17-5 performance at their new ONEOK Field.  He hit two homers and went three for four.
Don't look now but Davis is hitting .304 with six homers for the AA Drillers.  He is showing some power that we're used to seeing from him at Illinois Field.
I hope Davis had a chance to talk to the shortstop of the opposing team, the Corpus Christi Hooks.  He's none other than former Illini shortstop Brandon Wikoff.  The two played together for a couple years at Illinois Field.  Wikoff was one for two in the game and is having a great year for the Hooks.  He's batting .351 with  26 runs scored.
Also, former firstbaseman (and occasional color man in the booth during Illini games) Mike Rohde displayed some fireworks during the 4th weekend.  He knocked hone the winning run for the Gary Southshore RailCats in their win against the Sioux Falls Pheasants.  The RailCats are in first place in their division thanks in part to Rohde who is hitting a nifty .284 with 4 homeruns.
Good luck to all three!
Related posts