Just catching up on a few stories…
The Daily Illini has a nice article on the Parr brothers not to mention Dad Cam who we find out was a shortstop himself at Huntington University.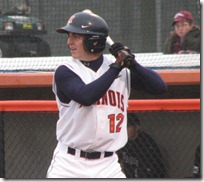 Speaking of shortstops, former Illini shortstop Brandon Wikoff (left, during his Illini days) has been doing quite well in AA ball. Brandon is playing for Corpus Christi with the Houston Astros organization.  I won't jinx him by quoting his numbers but you can check them out for yourself.  By the way, it was nice to see Brandon's mom make it to Friday's game.
Interesting stat of the day:  Illinois has a better record when they give up two or more homers (2-1) than when they don't give up any at all (12-17).   Unfortunately, today was the exception.
Related posts