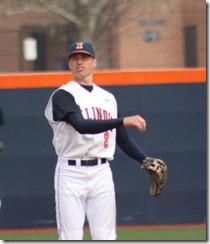 Josh Parr:  All-Big Ten Second Team
Yesterday, seven Illinois baseball players were honored with All-Big Ten awards.  While the Big Ten championship team was shut out of the All-Big Ten First team, Adam Davis, Pete Cappetta and Josh Parr were placed on the Second Team and Casey McMurray and Wes Braun were selected for the Third Team. 
Thomas Lindauer was selected as All-Big Ten Freshman at shortstop.  Additionally, Josh Parr was also honored with a Big Ten Sportsmanship Award. 
Congrats to everyone!  You're all first team as far as I'm concerned.
Here is the full list:
ALL-BIG TEN FIRST TEAM
C – Kevin Plawecki, PUR
1B – Jeff Holm, MSU
2B – Ryan Jones, MSU
SS – AJ Pettersen, MINN
3B – Torsten Boss, MSU
OF – BRANDON ECKERLE, MSU
OF – SEAN DEEGAN, PSU
OF – Barrett Serrato, PUR
DH – Alex Dickerson, IND
SP – Joey DeNato, IND
SP – Tony Bucciferro, MSU
SP – Kurt Wunderlich, MSU
RP – Scott Matyas, MINN
ALL-BIG TEN SECOND TEAM
C – Adam Davis, ILL
1B – Josh Dezse, OSU
2B – Pete Cappetta, ILL
SS – Josh Parr, ILL
3B – Chris Lashmet, NU
OF – Patrick Biondi, MICH
OF – Michael O'Neill, MICH
OF – Tyler Spillner, PUR
DH – Paul Snieder, NU
SP – Jarred Hippen, IOWA
SP – Drew Rucinski, OSU
SP – Steven Hill, PSU
RP – Nick Wittgren, PUR
ALL-BIG TEN THIRD TEAM*
C – Tyson Blaser, IOWA
1B – Nick O'Shea, MINN
2B – Micah Johnson, IND
SS – Trevor Stevens, NU
3B – Cameron Perkins, PUR
OF – Willie Argo, ILL
OF – Casey McMurray, ILL
OF – Trevor Willis, IOWA
OF – Stephen Talbott, PUR
DH – Jared Hook, MSU
SP – Brandon Sinnery, MICH
SP – TJ Oakes, MINN
SP – John Walter, PSU
RP – Wes Braun, ILL
RP – Tony Wieber, MSU
ALL-BIG TEN FRESHMAN TEAM
C – Joel Fisher, MSU
1B – JOSH DEZSE, OSU
2B – KYLE RUCHIM, NU
SS – Thomas Lindauer, ILL
3B – DUSTIN DeMUTH, IND
OF – Taylor Zeutenhorst, IOWA
OF – MICHAEL O'NEILL, MICH
OF – Tim Wetzel, OSU
DH – Jack Livingston, NU
SP – JOEY DeNATO, IND
SP – David Garner, MSU
SP – GREG GREVE, OSU
RP – Ryan Halstead, IND
Unanimous honorees in ALL CAPS
* – Additional honorees due to tie
SPORTSMANSHIP AWARD HONOREES
Josh Parr, ILL
Brian Lambert, IND
Tyson Blaser, IOWA
Anthony Toth, MICH
Brandon Eckerle, MSU
Kyle Geason, MINN
Matt Gailey, NU
Theron Minium, OSU
Bobby Jacobs, PSU
David Blount, PUR
PLAYER OF THE YEAR
Jeff Holm, MSU
PITCHER OF THE YEAR
Kurt Wunderlich, MSU
FRESHMAN OF THE YEAR
Josh Dezse, OSU
COACH OF THE YEAR
Jake Boss Jr., MSU
Related posts