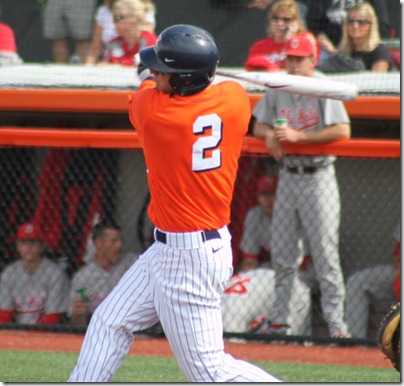 Davis Hendrickson takes a cut in Illinois' 12-7 loss on Saturday
Illinois took a while to get their offense going on Saturday… too long it seems, as they lost to the Ohio State Buckeyes 12-7.
It almost looked liked Buckeye hurler Brett McKinney, who came into the game with just one win, was unhittable, literally.  McKinney had a no-hitter going into the seventh inning when Justin Parr laced a single into center field.  Parr was immediately erased on a double play but Casey McMurray followed that up with a double.  Any thought of a Buckeye shutout was gone when Matt Dittman doubled home McMurray.
| | |
| --- | --- |
| | |
Meanwhile, starter John Anderson (above, left) had troubles with the Ohio State lineup.  He got through the first inning in short order but the Buckeyes scored three runs apiece in the second and third innings giving them a quick 6-0 lead.  When they scored another in the fifth, Coach Hartleb brought in Lee Zerrusen (above, right).  Lee's line doesn't look good for the game (5 ER in 3 2/3 IP) but he actually stopped the bleeding and kept Ohio State scoreless until the eighth when they rallied for five more runs.  Bill Barrett came in for the last inning and a third and kept the Bucks from crossing the plate.
Down 12-2 in the bottom of the ninth, Illinois wasn't about to give up.  Two doubles by McMurray and Pat Sheehan plus a single by Pete Cappetta made things interesting.  Add in a few walks plus a hit by pitch and wild pitch and the Illini managed to score five runs in the ninth to make the final score 12-7.
More of my photos from today are here.
Random Ramblings
Ok, we didn't win the game but I think the ninth inning, five run explosion will do wonders for our momentum and outlook for Sunday's game.
I hope everyone braved the rainstorm ok.  As a person who walks to the park, I actually left in the eighth inning (and missed the five run rally, darn).  I got hit by the drenching downpour while walking through Mt Hope Cemetery.  Fortunately, my office is on the other side of the cemetery and wouldn't you know it, I had a spare shirt there.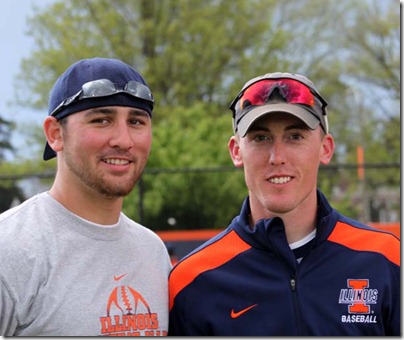 Before I left though, I got a chance to talk to Craig Lutes (right) who was hanging out with former teammate Mike Giller.  Lutes is doing well and is an assistant coach at Normal High School.  Normal High is in town playing Centennial and Craig thought he'd watch a few of his old 'mates.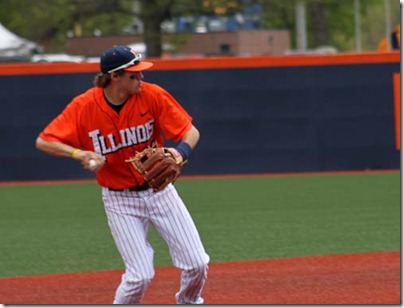 Brandon Hohl was out of the lineup today due to being hit on the hand in yesterday's game.  Near as I can tell, he'll be out Sunday too.  Hohl's bat will certainly be missed but we're lucky to have capable replacements.  Thomas Lindauer (above) spelled Hohl at third base today and did some fancy glovework in the field.
Next up
Sunday is the last game against Ohio State.  Gametime is 1:05pm.
Related posts