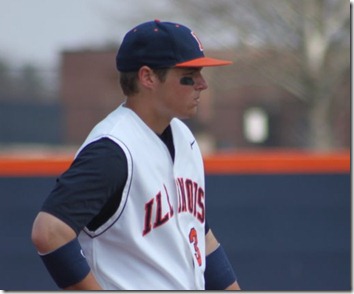 Win or lose, Brandon Hohl continues to clobber the ball
Tonight, Illinois took their game on the road just a bit south of here and took on Eastern Illinois University.  The pitching fared ok but the offense just couldn't get going as EIU won 4-1.
Illinois' one run came on a solo shot by (can you guess?) Brandon Hohl.  This was Hohl's 4th homer of the year and his third in three games.
The pitching held out as Lee Zerrusen made the most of his second start of the year.  Lee kept the Panthers scoreless for five innings.  Unfortunately, it was sixth when they scored their four runs.  In all, Lee allowed three runs in 5 1/3 innings.  Bill Barrett finished out the inning giving up one more run.  Chris Pack pitched two scoreless innings.
On Wednesday night, Illinois comes home to Illinois Field to face Southern Illinois.  This will be the second time these two teams will meet this season.
Southern Illinois Salukis

April 13, 2011
6:05 pm ct
Illinois Field
Champaign, IL
Program website link
Record
11-20 (3-0 in the MVC)
Head Coach:
Ken Henderson
Key Player:
Jordan Sivertsen (.336, 7 hr, 30 rbi)
Until tonight's loss against Southeast Missouri St, SIU had a four game winning streak.  They're still 11-20 but that still put a dent in they're early season slump.  As a matter of fact, their 3-0 MVC record put them first in this early conference season.
Junior outfielder Jordan Sivertsen is having a banner season for the Salukis.  He's racked up 30 rbis and is hitting .336.  Both are tops on the team and his homerun mark is currently #2 in the MVC.
Random Ramblings
Don't forget it was the weekend when Illinois last faced SIU when they started their five game winning streak.  They won against St Louis the night before, then Southern.  They then came home to Illinois Field for the home opener and proceeded to win three more.  Here's hoping for another of the like.
Regarding Josh Parr, everything I hear is positive.  But each time I go to the ballpark or check the box score, he's not there.  I'm hoping he's back soon.  He was such a bright spot in our lineup in the early season.  Our only consolation is that brother Justin and Thomas Lindauer are quite able replacements while he's out. 
One more quick thing… I notice that Ryan Arrick got some time at catcher in tonight's game.  Adam Davis was in the lineup as DH but didn't have to don the tools of ignorance.
Let's go Illini!
Related posts