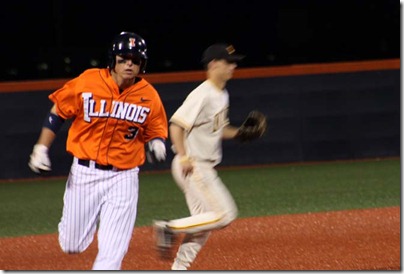 Brandon Hohl can't do it all.  Though he tried.
Hohl did his best as he went 3 for 3 and drove in all four of Illini's run in Saturday's 7-4 loss to Iowa.  He even gave the Illini faithful some hope of a comeback as he hit a ninth-inning two-run homerun over the left field fence.  That brought the score within three but unfortunately the score stood.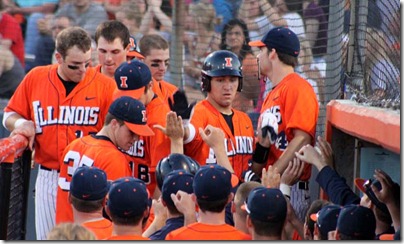 Adam Davis gets hearty congrats after scoring on Hohl's base hit
The game was all Iowa's as they scored four runs in the first two innings off of Illinois starter John Anderson and never really looked back. Down 5-0, Illinois drew blood in the fourth when Hohl hit a two-rbi single scoring Adam Davis and Justin Parr.
Matt Milroy and Bill Barrett did a fair job out of the pen giving up a combined two runs in 5 1/3 innings.
More photos from Saturday's game here.
Random Ramblings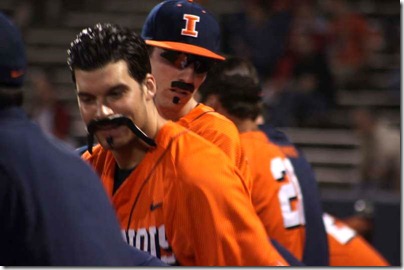 Let me say that with the score 7-2 going into the bottom of the ninth, I appreciated the attitude that appeared to be coming from the dugout.  This team, up on the railing of the dugout, acted like they had every chance to win this game.  That attitude is contagious with the fans.
And what was with the rally fake mustaches??
Last game of the Iowa series is Sunday at 1:05pm.
Go Illini!
Related posts