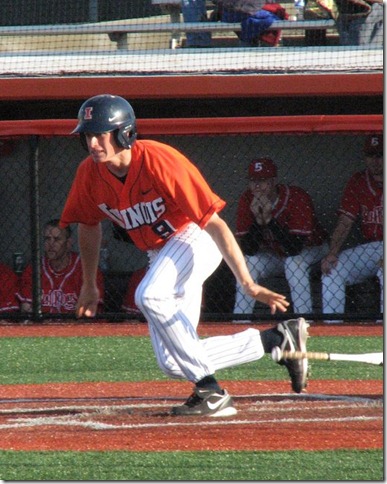 Josh Parr and Co will attempt to win their first Big Ten series this weekend
This weekend, the Illini will be hosting their first Big Ten series.  They'll be hosting the 11-15 Iowa Hawkeyes.  Weather permitting, that is.  I doubt the Illinois weather will prevent any action on Friday but the outlook on Saturday looks pretty grim.  I'm hoping for the best.
Here is the official weekend preview on fightingillini.com.  Hopefully the game on Saturday will be played because the Big Ten Network plans to broadcast the game on the TV.  Live video will be available on their website.  Audio and Gametracker will be available on fightingillini.com.
If you do make it out to Illinois Field, don't forget to pick up your pack of Freshman baseball cards!
Iowa Hawkeyes

April 8, 2011
6:05 pm ct
April 9, 2011
6:05 pm ct
April 10, 2011
1:05 pm ct
Illinois Field
Champaign, IL
Program website link
Record
11-15 (1-2 in the Big Ten)
Head Coach:
Jack Dahm
Key Player:
Trevor Willis (17 runs, 6 sb)
The Iowa Hawkeyes haven't wowed anyone with their offense with an opposing ERA of 3.77.  That said, their pitching, led by starter Nick Brown (3-2, 2.85) has evened things out.  Hyped starter Jarred Hippen has done ok but perhaps hasn't gotten the support he needs with a 1-3 record.  Kevin Johnson could relate, I'm sure.
In their first Big Ten series, the Hawkeyes lost their first two games to Michigan State but came raring back with a vengeance to win the last one 19-7.  That shows they can put runs on the board if the mood strikes them.
Random Ramblings
Take a look at the roster of the Single-A Greenville Grasshoppers.  It looks like former Illini Joe Bonadonna has been picked up by the Florida Marlins organization.  Until this year, Bonadonna has played for the Rangers organization.  Good luck playing for your new boss, Joe!
Let's go Illini!
Related posts