The smile on Adam Davis as he scores on Matt Dittman's homer says it all
When I got to Illinois Field to watch the last game of this weekend's Illinois-Iowa series and Illinois had already gotten a 5-0 lead before I was situated, I thought I was in for a nice, comfortable win for the Illini.  Boy, was I wrong.
The Illini did win by the score of 11-7 but it wasn't easy and the fans were treated to some oddities along the way.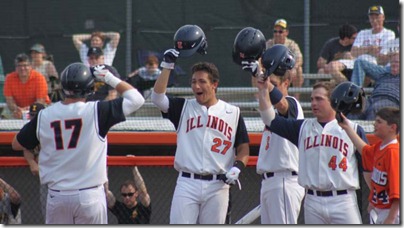 Adam Davis, Brandon Hohl and Casey McMurray congratulate Dittman on his homer
But first, let's give some kudos to Matt Dittman and Adam Davis.  Davis had a good deal to do with the first inning rally as he hit a three run homerun.  Not only that, he drove in the the winning run in the eighth inning with a base hit scoring Justin Parr.  Ditt hit his first homerun of the year in timely fashion, a three run shot that padded Illinois' lead.
Ditt and Davis were a combined 5 for 10 with 7 rbis.  Brandon Hohl also homered, his third of the year and second of the weekend.
After Illinois' five run lead in the first, things looked pretty easy for the Illini.  Between the fourth and eighth inning though, Iowa scored seven runs and took the lead. We saw some rather interesting events.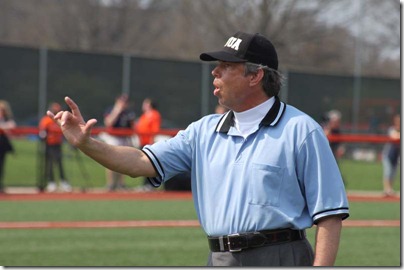 The ump gives the Iowa dugout a warning
Iowa was given a warning by the first base umpire for excessive celebration (my guess) after Casey McMurray was tagged out between the basepaths.   Not only that, five batters from both teams were hit by the pitcher (two on the noggin) within three innings.
In the seventh, Illinois got a triple, a single, a double and a walk and only managed to score one run.
Add to that the strong winds where a deep popout was good enough to get a player a homer and we had a strange game.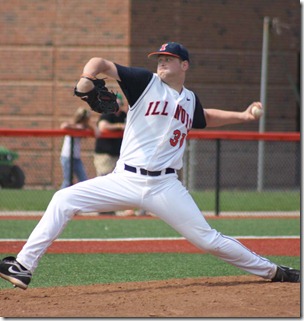 Strong performance by Kimes
Corey Kimes had a strong game, in my opinion.  He was hurt by errors but until the sixth, he only gave up one run.  He also struck out six batters in five plus innings.  Wes Braun got the win and probably really deserved it.  He pitched two innings gave up no earned runs and came back after hitting the Iowa batter in the head.  That would have unnerved me.  Chris Pack pitched a scoreless ninth.
Here are the photos from today's game.  I really like these and I had a hard time picking which ones to upload so there are about 60 or so.
Next up
Illinois will next play in Mattoon and take on Eastern Illinois.  Game time is 6pm.
Related posts