In the last two days, Illinois baseball took on the Northern Illinois Huskies on neutral territory twice in two different venues.  The ballgames were polar opposites of each other but end result was the same.  An Illinois loss.
Thursday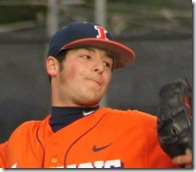 Thursday, the Illini played the Huskies at Rent One Park in Marion, IL.  With Kevin Johnson (left) on the mound for the good guys it was a pitchers' duel.  Unfortunately, the Illinois offensive crew couldn't manage to plate any runs and only garnered three hits.  NIU scored three off Johnson who probably otherwise pitched one of his best games of the season.  In 7 2/3 innings, he struck out a career high 11 batters and didn't allow a walk.  Final score NIU 3  Illinois 0
Josh Parr had two of Illinois' three hits and stole a base.
Friday
It seemed both teams saved all their offense for Friday's game.  They moved to Abe Martin Field in Carbondale and it was quite a slugfest.  Both teams combined for 33 hits and 29 runs.  Six Illini had two or more hits (Casey McMurray had three).  Willie Argo scored four times and Brandon Hohl drove three runs.  Three Illini homered including Davis Hendrickson who hit his career first.
The Illinois offense was on but the Huskies offense was more so.  It was touch and go for a while (Illinois had the lead for a half inning in the fourth) but in the end, the Huskies came out the victor 15-14.
It was the first game this year that John Anderson started that someone other than Chris Pack relieved.  Pack did come in.  After Anderson made an early exit (another first, Anderson has otherwise been very effective this year) after one inning, Pack lasted 3 1/3 innings before Luke Joyce and later, Lee Zerrusen were brought in.
Random Ramblings
Standings check… Illinois' overall record of 4-10 now puts them in ninth place in the Big Ten.  The only consolation is that Michigan is in tenth (just kidding, Blue fans).  All bets are off when conference season starts, though.
This week, the Daily Illini had a feature article on Luke Joyce.  Maybe it's me but they seem to be focusing on the new guys.
This isn't Illini-related but perhaps you'll find it interesting.  I interviewed Chicago-based baseball artist Grant Smith for The Baseball Zealot.  If you're into art, especially baseball art, check it out.  You can find Grant's art at his website.
Next up
Illinois continue to play at Carbondale this weekend.  Saturday. they take on St Louis University and Sunday it's the host team Southern Illinois Salukis.
Go Illini!
Related posts