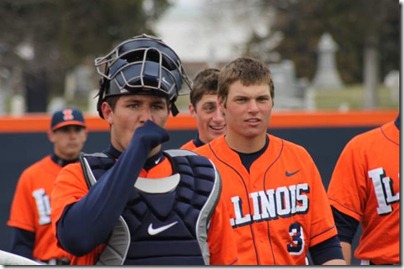 The Illini (including Adam Davis (left) and Brandon Hohl), were ready to play today
We were all there today.  The the fans (more than I thought would show up in this cold weather) were in the stands, players had gone through all their warm-ups, and announced starter John Anderson was tossing in the bullpen.
Unfortunately, there was no game.  Five minutes before the game, the PA announcer notified us that today's game was cancelled due to the cold weather and the potential of injury of the players.  It was also announced that Sunday's game was also cancelled.
No games appear to have re-scheduled to make up for the two cancelled games.
The next game will be the Battle at Busch on Tuesday at 6pm.  Illinois will take on Missouri at Busch Stadium in St Louis.
Related posts