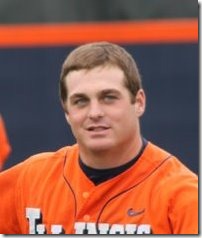 Casey McMurray led the Illini in hitting (.348) and homeruns (6) in 2010
The Illinois baseball players have been practicing for a few weeks now this year but this weekend, it's for real.  On Friday, the Big East/Big Ten Challenge tournament commences.  For Illinois' part, they will be taking on University of Pittsburgh, University of Cincinnati and West Virginia University.
This is the third annual Challenge with the Big Ten winning the first 15-9 and the Big East winning last year's 17-13.  Last year, Illinois won their first game of the tournament before losing the last two.
If you want more information on the Big East/Big Ten Challenge tournament, visit the tournament website.
On with the game previews:
Pittsburgh Panthers

February 18, 2011
3:00 pm ct
Jack Russell Stadium
Clearwater, FL
Program website link
2010 Record
38-18
Head Coach:
Joe Jordano
Key player:
Joe Leonard
Pitt Coach Joe Jordano has 611 wins under his belt.  Combine that with a .611 winning percentage and you know team leadership is not a question.
Senior firstbaseman David Chester led the team with 15 homeruns.  Look out for junior Joe Leonard.  He led the Panthers in both batting average (.433) and rbis (70) last year.
As a matter of fact, Pitt's offense looks pretty tough up and down the lineup.  There wasn't a starter that hit below .322.  Be careful, Illini pitchers!
Cincinnati Bearcats

February 19 , 2011
9:00 am ct
Jack Russell Stadium
Clearwater, FL
Program website link
2010 Record
29-29
Head Coach:
Brian Cleary
Key player:
Jimmy Jacquot
Our key player from the Bearcats, catcher Jimmy Jacquot, is an Illinois product.  Hailing from Swansea, IL, Jacquot led the Bearcats in homers (13) and rbis (50) last year.
The Bearcats split against their opponents in 2010 with a 29-29 record.
West Virginia Mountaineers

February 20 , 2011
12:00 noon ct
Al Lang Field
St Petersburg, FL
Program website link
2010 Record
27-30
Head Coach:
Greg Van Zant
Key player:
Grant Buckner
Illini pitchers can count their blessings.  Jedd Gyorko who led WVU in practically every offensive category, was drafted last year and is playing in the minors now.
That said, shortstop Grant Buckner will be happy to take the reins as one of the leaders of the team.  Buckner hit .363 in 2010 with 8 homers.
We faced WVU at last year's Keith LeClair Classic.  It was a close one but Illinois couldn't eke it out and lost 11-8.
Random Ramblings
If you haven't seen it yet, check out the Position Players & Schedule Preview at fightingillini.com.  Again, always informational.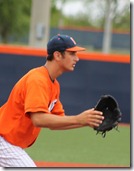 Big questions arise at second base with the departure of Christian Cummins.  It's looking like it will be Pete Cappetta (left) plus a combination of the new guys.
Relevant text from the preview:
"Senior Pete Cappetta who earned All-Big Ten second team honors in 2009, will challenge for starting spots at both second base and right field."
and
"Sophomore Justin Parr, and freshmen Thomas Lindauer and Reid Roper join the Illini infield in 2011. All three promising newcomers will push for playing time in the middle infield."
Should be interesting.
Good luck this week, Illini!!
Related posts