The last game for Illinois at the Big East/Big Ten Challenge was a hard fought contest but their opponent West Virginia, seemed to stay one step ahead of them for most of the game.  The Parr brothers provided some excitement in the top of ninth as Josh was hit by a pitch and stole second base.  Justin followed that up by driving him home with a single to right.  That tied the game 4-4. 
Unfortunately, the first WVU batter walked in the bottom of the ninth.  After a successful sacrifice bunt, the winning run for the Mountaineers scored on a base hit.  Final Score: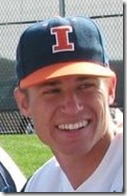 WVU 5 Illinois 4.
Josh Parr (right) had another good game going 2 for 4 with a triple and an rbi with two stolen bases.  His effort for the weekend was good enough in fact, to garner him Honorable Mention All-Tournament.  For the weekend, he hit .385 with a .615 slugging percentage. 
Big Ten Talk
Conference-wise, the Big Ten slipped again on Sunday, winning only three games out of nine.  This time winners were Indiana, Ohio State and Purdue.  Michigan State was the big winner from our conference winning all three of their games. 
Overall, the Big Ten lost this year's tournament.  They went 10-14 this weekend. 
Purdue had two of this weekend's award winners with Barrett Serrato winning the Player of the Week and Matt Morgan getting the Pitcher of the Week.  Ohio State's Josh Dezse took home this week's Big Ten Freshman of the Week.
I know it's early but here are the standings after one weekend:
Big Ten
Team
Record
Pct.
Record
Pct.
Michigan State
0-0
.000
3-0
1.000
Penn State
0-0
.000
2-1
.667
Purdue
0-0
.000
2-1
.667
Illinois
0-0
.000
1-2
.333
Indiana
0-0
.000
1-2
.333
Minnesota
0-0
.000
1-2
.333
Ohio State
0-0
.000
1-2
.333
Northwestern
0-0
.000
1-3
.250
Michigan
0-0
.000
0-3
.000
Iowa
0-0
.000
0-3
.000
Next up: 
Illinois will head down to Ft Myers, Florida to face Florida Gulf Coast for three games this coming weekend.  Friday's game time is 5:30pm CT.
Related posts