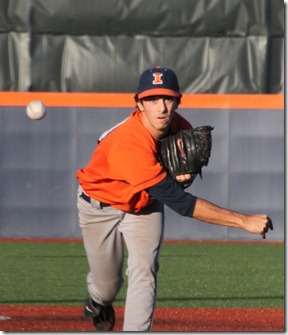 Today was the first day of the University of Illinois baseball Orange and Blue World Series.  It was a nice mild October afternoon day for a baseball game and it was nice to see a few fans out at Illinois Field to watch the guys play ball.
It may be a "World Series" but most of the pomp and circumstance you have with a regularly scheduled baseball game are thrown out the window for these games.  No national anthem, no working scoreboard, no announced lineups… just hard working ballplayers showing up to play a baseball game.  And for me who hasn't seen an Illini game since May, that was fine with me.
Here are some photos I took.  Above, John Anderson got in a few innings for the Orange team.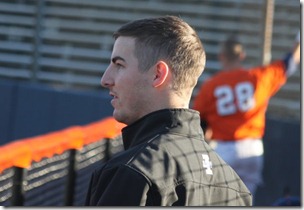 I saw a few visitors at the park today.  I met pitcher Rob McDonnell's father, Dan, who came down from the suburbs.  Also, it's always nice to see Peggy Libby who came down to see her son, Tanner pitch.
But the real surprise was seeing former Illini shortstop Brandon Wikoff (above) who is speeding his way up the Houston Astros organization.  He just finished a Triple-A season this year.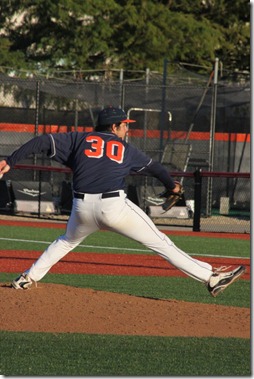 We got a chance to see freshman pitcher Luke Joyce in action.  He's 6'3" and check out the stride on his delivery!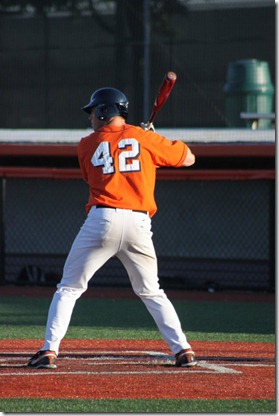 OF Wille Argo looks to be in good shape for the '11 season.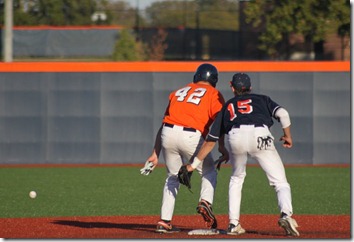 Argo hasn't lost any speed either.  Here he forces a wild throw on a steal attempt.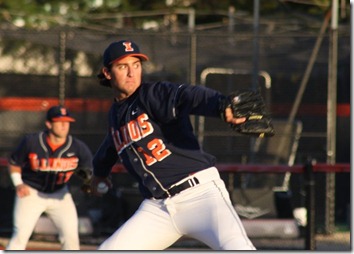 Chris Pack is another new pitcher for the Illini.  He's listed as a senior and came over from Villanova.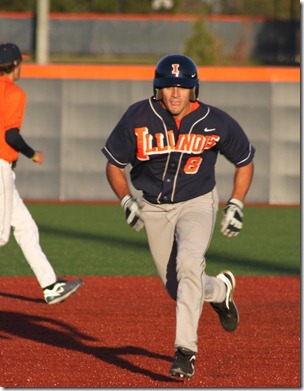 Senior outfielder Pat Sheehan makes his way to third on a hit.
I have a few more photos at the photo gallery.
Two more games are scheduled for the Orange and Blue series.  They will be Tuesday and Wednesday at Illinois Field.  Gametime is around 4:30pm or whenever they get around to it.
Related posts