IBR reader Sue and her family took a trip to Springfield one week ago and watched our own Davis Hendrickson and Corey Kimes play for the Springfield Sliders as they took on the Nashville Outlaws in front of a crowd of over 2,000.  The home team won 5-2.  Way to go, guys! 
I'm posting some of her photos and comments which she graciously passed on to me.  Thanks, Sue!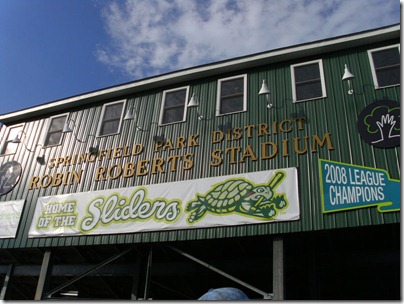 Welcome to Robin Roberts Stadium at Lanphier Park in Springfield.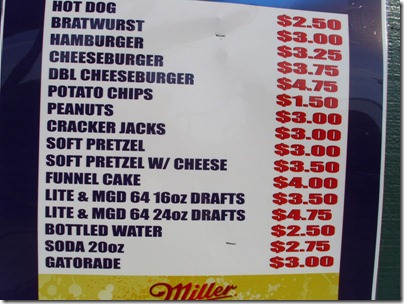 Typical ball park food on the menu.  Cheese pizza is $3 with sausage or pepperoni available for an extra 50 cents.  By the way, the field is shared by the high school next door and they still sell beer, at least at the Sliders' games.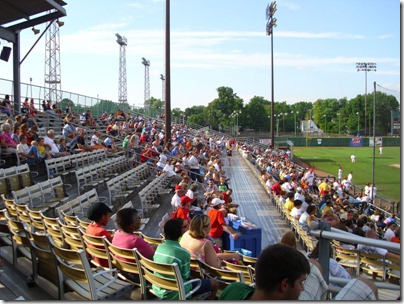 Seating down the 3rd base line.  The chairback seating is pretty comfortable–haven't tried the bleachers.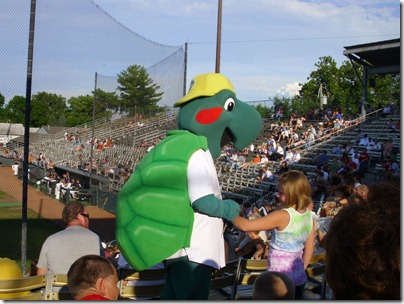 Speedy is the Sliders Mascot.  He races kids, leads Take Me Out to the Ballgame, etc.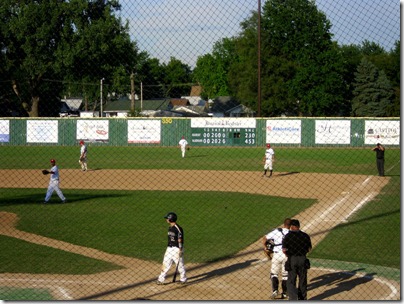 Davis Hendrickson (#1) is heading to his position in RF. Note the manual scoreboard.  It came in handy due to some gibberish on the electronic scoreboard.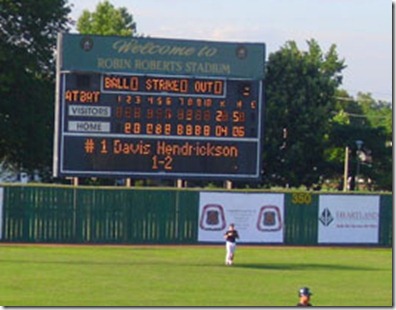 At least Davis Hendrickson's name came out okay since the scores for each inning didn't.  Glad they had the manual scoreboard as backup.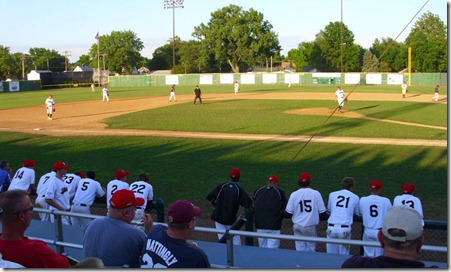 Corey Kimes (#14) at left end of dugout watching the game.  He pitched the day before–it would have been nice to see both of them play.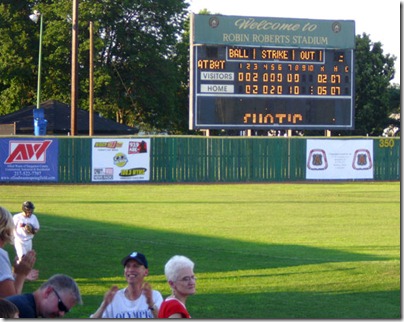 The electronic scoreboard worked near the end of the game.  
Sliders won 5 – 2!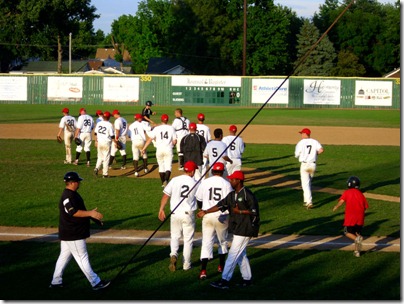 Sliders handshakes at the end of the game.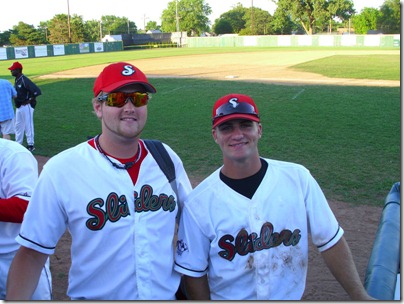 Last but not least:  Corey Kimes (#14) and Davis Hendrickson (#1)
Thanks again to Sue!  It's great getting reports like this!
Related posts
Filed under: Summer League on July 19th, 2010 by: Thomas Nelshoppen