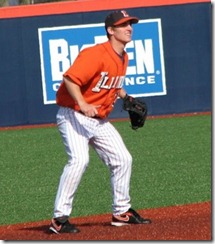 There was some good news for former Illini shortstop Brandon Wikoff that came down the wire today.  Wikoff is being promoted to AAA ball.  That's a nice jump for Brandon who had spent 2009 and early 2010 in single A.  Most currently, he has been playing for the A Lexington in the Sally League. 
Not to take anything away from Brandon's promotion (because he certainly deserves it) but I wonder if the injury to Houston Astro rookie Tommy Manzella has anything to do with it.  With Manzella's injury, he'll be out 6 or so weeks.  With his absence, the Astros are already calling up from AAA.   
Regardless, it's a good jump for Wikoff, who is a Peoria, Illinois native.  He'll now be playing for the Round Rock Express of the Pacific Coast League.  Incidentally, Round Rock, Texas is known for being the home of Dell Computers hence the name of their stadium, Dell Diamond. 
This will be only Brandon's second year in the minors after getting drafted by the Astros in the 2009 MLB draft.  He's done well so far, hitting .280 in the bush leagues. If you want, take a look at his college and minor league stats at The Baseball Cube.
Good luck to Brandon in his new digs.  He's in new territory now.  Make the most of it!
Related posts