Indiana came touted as a team with power and at least for Hoosier fans, they disappoint this afternoon.  They defeated the Illini 11-5 with the help of six homeruns. 
Indiana never had the huge inning… no more than than three runs in a frame.  Also, Illinois managed to separate their rallies with goose eggs.  Indiana never scored in two successive innings.  Yet, when it all came down to it, Indiana won big time. 
Lee Zerrusen was again hit hard.  He gave up eight hits and five runs in three and 2/3 innings.  A big mystery to me is Big Z.  Everything pointed to Zerrusen being a solid starter this year but for some reason he got knocked around a lot.  He's got good stuff,

there's no doubt about it.  It just never clicked.
I've said before I thought Pete Cappetta was a late starter.  He showing that to an extreme this year.  On Tuesday, Cappetta (right) hit his first homerun of the year against Western Michigan.  Today, he hit his second, an 8th inning 2-run shot.  For the day, he was 3 for 3 with 2 rbis, 2 runs and a stolen base.  DH Aaron Johnson knocked two base hits and scored twice. 
Argo Watch:  Willie got on base three times on two singles and a walk but did not steal a base.  Two of those times, there was a runner on second base.  He needs one more stolen base to tie the team record. 
Random Ramblings
If you know why Mike Giller hasn't been playing in the past week or two, you know more than I.  I've been asking around and no one seems to know.  Giller has had a pretty productive 2010 spelling for the injured Matt Dittman at first base.  Given Giller is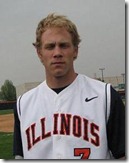 a senior and these are his last days an Illini, I'm betting/hoping it's a good reason.
More news from the minors… former Illini catcher Lars Davis has been promoted to AA ball.  Lars (left) will be reporting to the Tulsa Drillers which is the AA affiliate for the Colorado Rockies.  Congrats, Lars! 
(By the way, thanks to the person who occasionally feeds me these news tips.  I know they want to remain anonymous but I do want to express my appreciation (you know who you are).
  Tomorrow is a 2pm game.  Kevin Johnson is on the mound for the good guys.
Go Illini!!
Related posts