A friendly reader told me I was a bit negative as far as the Illini's chances for the tourney in my weekend preview.  She might be right.  I need to drink from the glass half full.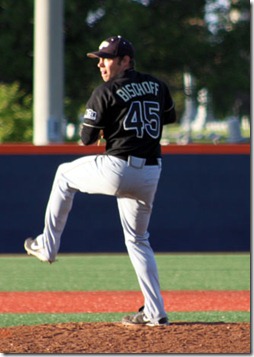 Bischoff:  23 straight
But tonight's game didn't help (you saw that coming).  Purdue's Matt Bischoff had the Illini lineup handcuffed and won his ninth game of the season as Purdue defeated Illinois 8-2 .  At one point, he retired 23 batters in a row.  I hate posting opponents' photos in these articles because space is limited but he deserves it.  He was in his zone as was commented to me.  Working quickly, he never seemed to come up for air.  Duration of game:  1:57.  It had to be the shortest game I've seen at home.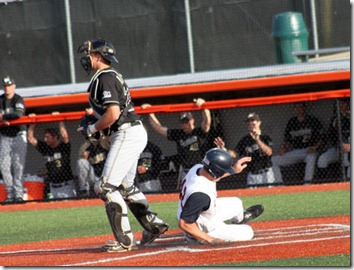 Argo slides in to score
For a while, the game was actually closer than it seems.  Illinois' first two batters got hits and managed a run out of it.  Willie Argo singled and stole second (his 38th) and Craig Lutes drove him home with a base hit in the next at bat.  Unfortunately, those would be the last hits the Illini would get till the 8th inning.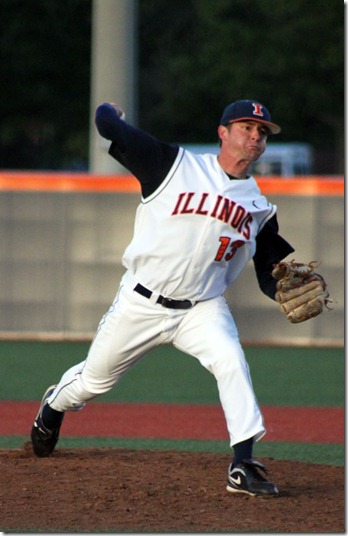 Brian de la Torriente delivers off the mound
However, Lee Zerrusen kept it close by only allowing a run in his first five innings.  So for a while we had a pretty good pitcher's duel going.  It wasn't till the 6th inning when Purdue got out their sticks and hammered Big Z for four more runs.  With one out and a runner on base, Brian de la Torriente came on and induced a DP.
de la Torriente continued to do well through the seventh but ran into trouble in the 8th giving up a couple of hits including a double.  He wasn't helped by an error.  In all, Purdue scored three more runs that inning.
In the bottom of the eighth, Christian Cummins got a base hit, the Illini's first since the first inning.  Josh Parr followed that up with an rbi triple.
This was probably going to be our toughest game to win and Bischoff just had our number.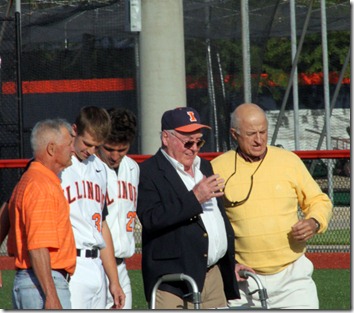 Lots of alumni action at tonight's game.  Three former head coaches threw out the ball in today's game.  Not only that, I saw former Illini Nick Stockwell, Aaron Martin, Chris Montgomery and Ty Milner in the stands watching their former team.
Speaking of former players, I'm throwing this link to the All-time Illini baseball rosters on fightingillini.com out here.  I've had one person ask me where it was (you know who you are).
And finally, in the spirit of keeping things positive, here is the link to the announcement that tickets are available for the Big Ten Baseball Tournament.
My photos from the game are at the photo gallery.
Tomorrow's game is at 6:05.  See you then!!
Let's go Illini!!
Related posts