This weekend, the Illini take on the University of Michigan Wolverines for a three game series.  To get a good feel for the team, I'm interviewing fomerlyanonymous who blogs about the Michigan baseball team at mgoblog.com. 
On to the interview:
Illinois Baseball Report:  Michigan outfielder Ryan LaMarre, who was injured in the first weekend of the season, wasted no time making an impact in his return this past weekend. He played well enough to be named Big Ten Player of the Week. I imagine Michigan fans are happy about this. Do you see him continuing this type of the play throughout the conference season?

MGoBlog:  Michigan fans are ecstatic to have Ryan back and for good reason. This weekend was an explosion that no one saw coming. That said, I don't think anyone  has the ability to keep a .600 batting average over a 7 week stretch. What should be scary to opposing pitchers is that LaMarre (left) was diagnosed as only about 80-90% this weekend. He still has some time to build back up his strength to the point it was before the fracture. Once he gets that back, those two he hit off the wall in the same inning will be clearing the wall easily.
IBR:  Aside from LaMarre, who are the other Michigan players Illinois needs to keep an eye on? Any newcomers who are pulling their weight?
MGoBlog:  Michigan has a lot of talent on offense this year, but it all starts with the lead off man Patrick Biondi. Biondi was a late round draft pick by the Tigers, but he came to Michigan to build up his draft stock. He's arguably the fastest player in the Big Ten and has one of the best bats as well. The kid has come out of nowhere to hit .376 with a .482 on base and .547 slugging percentage. The kid just gets on base, then he steals another. He's already tied Michigan's freshman stolen base record with 19 so far this season.
Things also won't be easy after LaMarre. Senior catcher Chris Berset took over the offense during LaMarre's absence, and he put up better numbers than LaMarre did in the previous season. He's batting .400 as of the Purdue series and the game plan appears to be get LaMarre on, steal to get into scoring position if necessary, then let Berset line a single in the outfield for the RBI. That combo worked 4 times this last weekend. 
After you get past Berset, you've still got Coley Crank, the team's leading slugger, and Mike Dufek who lead the Big Ten in homers last season.
IBR:  Michigan is 18-11 for the year but 3-8 as the visiting team. Is that going to be an issue during the Big Ten schedule (and hopefully against Illinois)?
MGoBlog:  3-8 as the visiting team is somewhat deceptive. Michigan was swept on the road by three opponents following the exit of Ryan LaMarre. Texas Tech is a top 65 RPI team, UNC is a fringe ranked team, and Coastal Carolina got a wake up call from some team I'm sure you've heard of, which left them extra focused for Michigan. That's 7 of the losses, and the eighth was at Indiana when Michigan made some questionable pitching choices on a weekend when Sabourin and Dickerson were red hot. Michigan probably should have taken one or two from UNC, but they were still shell shocked from the LaMarre loss.
The three wins we have are solid though, including a win at top 100 Florida Gulf Coast and two at Indiana. So I think the boys can handle almost any road situation.
IBR:  Minnesota has had a slow start during the non-conference schedule and even Ohio State, while still dominant, lost to a couple of non-competitive teams early on. Going into the season, they were two of the favorites of the conference. What does that mean to a Michigan baseball team who is trying to regain their status as the team to beat in the Big Ten?
MGoBlog:  I think Michigan is trying to take advantage the best they can. There isn't the dominant pitcher at the front of our rotation as there has been in the past, but our pitching depth is one of the top in the Big Ten. We also have the advantage of not facing Michigan State, the current leader, in conference play (although we do have a pair of mid-week games against them). This opens Michigan up to a potential run to try and steal a regular season championship if we catch a few breaks.
I don't think we're worried about being the team to beat. After last year's debacle, Michigan is out to just win every series and get a good seed to the tournament. If we can get there, our pitching depth should help us get back to the national picture. 
IBR:  Surely, there has to be a weakness on the Michigan squad. Care to share what it is?
MGoBlog:  There are two major concerns on my mind right now. The lesser of the two is the team defense. Freshman Derek Dennis has been a solid contributor and will definitely be a star sometime in the near future, but his defense has been rocky as of late. It hasn't cost us a game that recently, but it's been close a few times.
The bigger issue facing the team right now is consistency in the starting rotation. Alan Oaks dominated out of the gate, but he's been on a 4 week slide and hasn't shown signs of digging out of it yet. I'm not sure if this is just fatigue from his first full season on the mound or what. Sunday starting pitching has been a hodge-podge of guys that haven't had a ton of success this season. Burgoon did alright, but he's been too valuable at closer. Miller has left the ball up a lot. Sinnery came in for his first start of the season this week and looked good, but that's just one start. I need more data to really get a feel. 
Ok, let's do a few rapid fire questions…
IBR:  The Big Ten team Michigan must win all three against?
MGoBlog:  [slams head to desk] Northwestern. We couldn't do it last year. We can't afford not to do it this year.
IBR:  Stats aside, the Michigan player that has come through in the clutch?
MGoBlog:  Until this last week, Mike Dufek. He's cooled, so I'll go with LaMarre/Berset combo. 
IBR:  Similarly, the pitcher you want on the mound for the big game (or big inning)?
MGoBlog:  Game is tough. Brosnahan is hot right now. Big inning, no doubt it's Burgoon. He was throwing 93-94 and touching 96 on the fast ball last weekend. Filthy slider.
IBR:  The Michigan baseball team, a group of stars or a team effort?
MGoBlog:  Group of stars. Bottom 3 in the lineup are just contributors this year. We lack the stars in the starting rotation.
IBR:  Finally, your favorite Michigan alum who's made it to the bigs?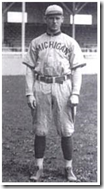 MGoBlog:  So many greats, where to start… I'm going way back to George Sisler (right).  Potentially the greatest Wolverine. Special love to Barry Larkin though. He was the man when I was a kid growing up. He's also getting his number retired during the OSU series this year.
IBR:  To close this off, tell us about mgoblog.com. How long have you been covering the team? Also, is the program pretty receptive to you as someone who blogs about the team?
MGoBlog:  mgoblog.com was started by Brian Cook in 2005. covering mainly football with a couple other Michigan sports and some U.S. Men's soccer. It's grown quite a bit over the last 5 years to the point where the site gets about 50-60,000 visitors each day. Over the course of its existence, coverage became focused to just Michigan football, hockey, and basketball, but following the acquisition of Varsity Blue (my former affiliation) to start this academic year, lacrosse, volleyball, and baseball have all received quite a bit more coverage. Volleyball and baseball are my own contributions to the site, with volleyball just wrapping up it's first season of coverage, while baseball is now in it's second year.
From what I heard from a former player, the guys don't follow my work. That's probably for the best. I know a couple parents do keep up with the write ups and they seem to appreciate it. The Athletic Department seems to have a few consistent readers as an SID or two has mentioned to me, and as I've noticed them sending out specific emails about an hour after certain threads on our message board ask similarly specific questions. My interactions with them have been nothing short of excellent.
In many cases, the UM AD gives Brian, our reporter Tim, or our photographer Paul any media credentials we desire, be that for baseball, football, or otherwise. We're treated like any other media source, but unlike the Detroit Free Press and a few other major local pundits, we generally have a very positive view of all things Michigan. I think it makes us more desirable.
thanks to formerlyanonymous for taking the time to answer my questions.  I'm looking forward to this weekend's series with Michigan… it should be a good one.
Related posts
Filed under: Feature on April 14th, 2010 by: Thomas Nelshoppen