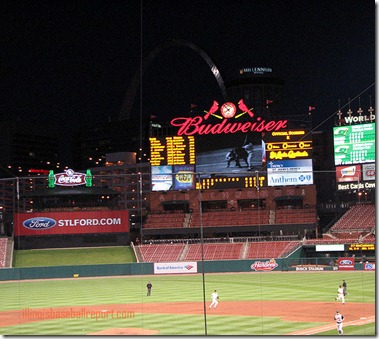 Last night was the touted "Battle at Busch", a game between Illinois and Missouri at St Louis Cardinals' Busch Stadium.  I went down the on the bus trip sponsored by the Dugout Club.  The trip was fun even though the good guys lost.
The Illini had a great second inning offensively.  Other than that, Missouri pitching kept them fooled.  All four of Illinois' runs were scored that inning.  Despite leaving 13 runners on base, Mizzou scored enough to win the game.  They won 7-4.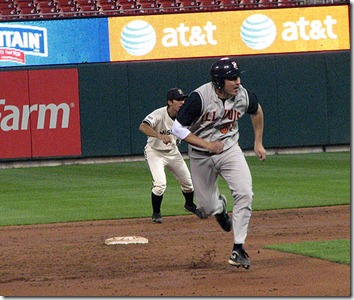 Mike Giller motors toward third in Illinois' four-run second inning
The second inning was pretty exciting though.  A well-executed hit-and-run with Adam Davis on first and Josh Parr up to bat.  That was immediately followed by a delayed double steal scoring Davis.  That's the kind of thing that makes college baseball so fun.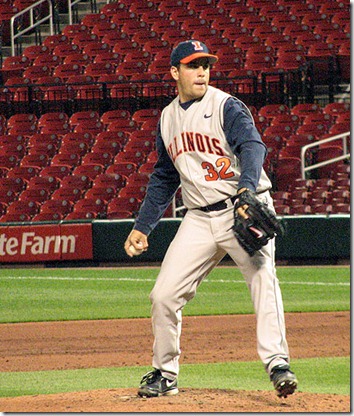 3 2/3 scoreless innings for Wes Braun
Wes Braun pitched excellently out of the bullpen.  Braun came in after reliever Billy Barrett got into trouble in the third and gave up three runs.  Braun closed the door in the third inning and pitched three more scoreless innings.  By the way, this was Billy Barrett's first appearance after coming back from injury.  Unfortunately, it had to result in a loss.  Welcome back, Billy.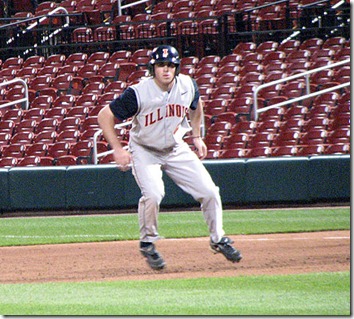 Willie Argo takes a lead before his steal…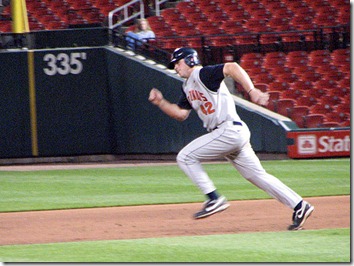 … and there he goes!
Casey McMurray was 2 for 4 including a double for the night.  He was the only Illini with more than one hit.  Willie Argo, who I heard was banged up a bit in the game against Bradley, was back and coaxed two walks, stole a base and scored a run.
Here are a few more photos: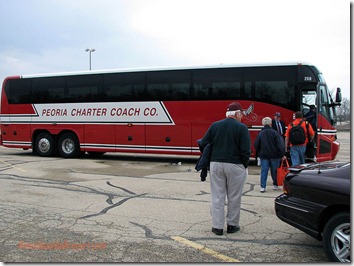 There were about 30-40 of us who took the bus organized by the Dugout Club.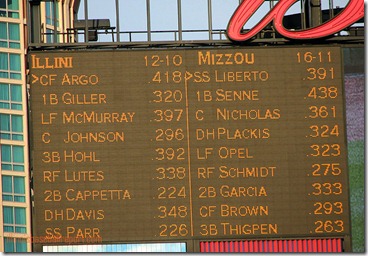 The starting lineups on Busch Stadium's scoreboard.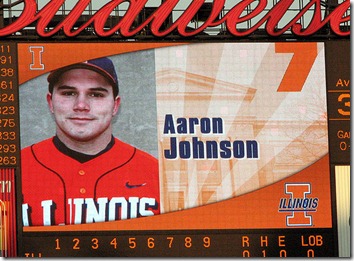 Is that Aaron Johnson… SMILING?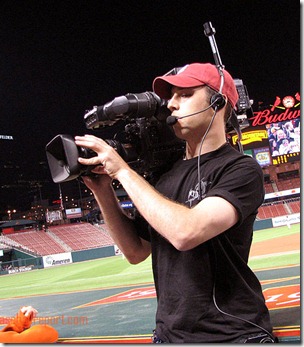 A camera guy came down by us to get a shot of the fans.  So I decided to get a shot of HIM.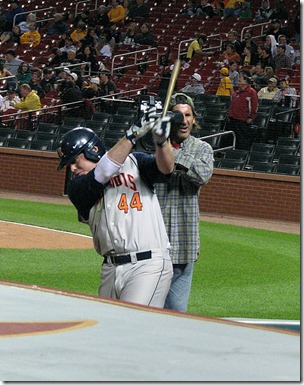 Speaking of cameramen, Casey McMurray gets the media treatment before his at-bat.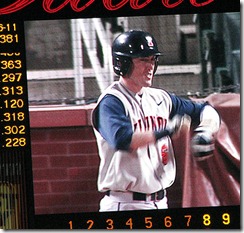 Craig Lutes is looking pretty hard core on the jumbotron. 
More photos at the photo gallery
Related posts