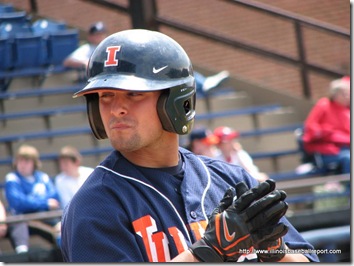 Illinois fans can celebrate again today as Illini centerfielder Joe Bonadonna was drafted by the Texas Rangers in the 43rd round.  This makes three current Illinois players drafted, the most since 2005.  Yesterday, Brandon Wikoff was chosen in the fifth round and Dominic Altobelli was picked in the 16th round.
Bonadonna is a speedster and a hustler.  And to me, that makes him a fun player to watch.  As a amateur photographer, I loved taking photos of him speeding around the basepaths.
Speedster that he is, Joe really came alive with the bat last year, his junior year.  That was coming off his phenomenal year with his summer league team the Duluth Huskies.  That success continued on into his 2008 season with the Illini.  He hit .356 with 47 runs and 26 stolen bases.  He hit one homerun in 08 but he really made it count.  He was the hero of Game 1 of the Big Ten Tournament and hit a homerun that decided the game for the Illini.
The Anatomy of a Joe Bonadonna Steal
Admittedly, Bonadonna got off to a slow start offensively in 2009. He was hitting around the Mendoza mark before the Big Ten season started but Coach Hartleb publically stated that he had confidence in his centerfielder and leadoff man.
The confidence paid off.  Bonadonna caught fire once Illinois hit the Big Ten schedule and his batting average rose some 50 points before the end of season.  He ended with 44 runs and 19 stolen bases.  For his career, Bonadonna hit .303 with Illinois. 
Texas is lucky in that they will be getting a versatile player (Bonadonna has played LF, CF, 3B, 2B that I know of while at Illinois) with a whole mess of  hustle and speed.  With proper motivation, he'll be able hit well in the Texas organization. 
I'll miss Joe.  He was fast, intense and he hustled, qualities I like in a ballplayer. 
Here are some more of my photos I took of Joe.
Good Luck Joe!!
Related posts