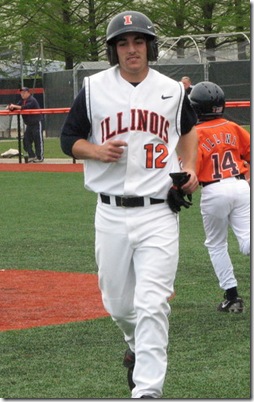 Once again, congratulations to Brandon Wikoff.  Wikoff, chosen by Houston Astros in the fifth round in the MLB draft deserves it.  He's been one of the most hard working, talented Illini baseball player since I've been covering the team. 
A quiet player on and off the field, I'm happy his small stature (5'8", 5'9" according to MLB.com) wasn't a deterrent to the scouts.  I'm sure they won't be disappointed.  He's been a force on the University of Illinois squad since his freshman year when he played thirdbase.  The next year, he moved to short and played it with a pretty flawless glove. His mantle is covered with awarded including First Team All-Big Ten and All-Ping! Baseball Second Team. 
And if you really want to get to know Brandon, check out the Q&A interview I did with him earlier this this year.  Also, Brandon had some comments on being drafted today  on FightingIllini.com.
Here are some of my favorite shots of Brandon from this year. 
Good luck in the future Brandon!  As a Cub fan, I hope to be rooting against you soon!  ;-)
Related posts
Filed under: Former Illini in the pros on June 10th, 2009 by: Thomas Nelshoppen