I'm back in Urbana, Illinois and before we close the book on the 2008 Big Ten Tournament, I'd like to provide some last comments and maybe some cool photos that didn't make it into postings last week.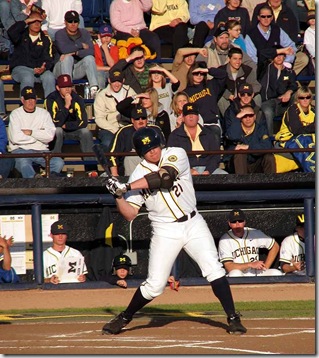 Michigan's All-Big Ten Player of the Year Nate Recknagel at the plate
Once again, congratulations to the Michigan Wolverines who won the Big Ten Tournament in style, undefeated. Michigan will go on to the Regionals as a #2 seed and will again act as host. Regionals games start May 30th.
There were two one-run games in the tournament including the 3-2 Purdue-Michigan championship game. The largest blowout was the 15-6 Purdue blasting of Penn State on Thursday.
In my opinion, the most exciting game was Friday's Indiana-Penn State game where no lead was safe.
Score by Innings                    R  H  E
-------------------------------------------
Penn State.......... 003 000 104 -  8 12  2
Indiana............. 013 030 004 - 11 15  4
Surely, Penn State after rallying from three back in the top of the ninth to take the lead, had thought they had wrested the game from the Hoosiers.
They didn't count on Tyler Cox hitting a grand slam in the bottom of the ninth to take it all away.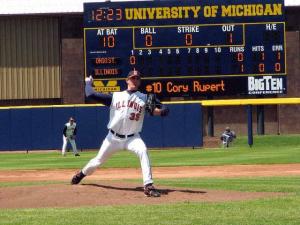 The Manster
Being an Illinois fan, I have to give mad props to 6'7″ starting pitcher Kevin Manson who kept the Illini in the tourney an extra day. Manson pitched a gem of a game on Wednesday… a complete game allowing only 4 hits and no walks. That was good enough to get him on the All-Tournament team.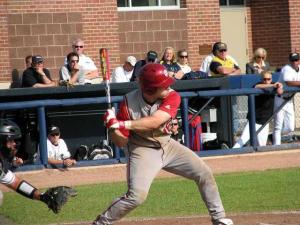 Josh Phegley at bat against Purdue
Chris Hervey and Josh Phegley, Indiana's #2 and #3 hitters were a force to be reckoned with. After their initial loss to Penn State, they caught fire. They were a combined 22 for 40 for the weekend. Phegley's six rbis against Illinois was personally devastating.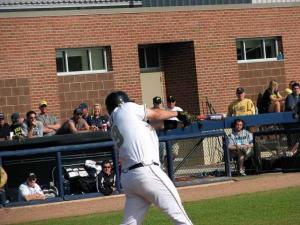 Dan Black's second homerun of the game against Indiana
The single player who had the most offensive tournament would have to be Purdue's C/3B Dan Black. For the week, Black was 7 for 11 with 5 homeruns and 11 rbis. Amazingly, all his offense came in two games. In the two games against Michigan (including of course, the championship game), he was 0 for 6.
Would that factor in why he was passed over for the Tournament Most Outstanding Player? Well, that and they would rather give it to someone on the Championship team as they have done in previous years?
And finally, my favorite photo from the weekend: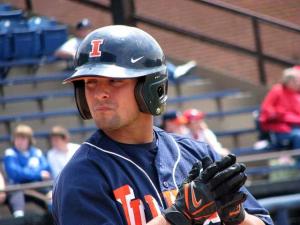 This is a particularly bad-ass photo of Illinois 2B Joe Bonadonna. Joe has been excellent camera fodder all season. This photo is atypical though because for once, Joe is holding still.
Thanks to all the players and their parents (some who I met) for making this tournament possible. Also, I appreciate all the hard work that the University of Michigan put in. They did a great job!
Entry point for all my photos taken at the 2008 Big Ten Tournament
The Baseball Zealot coverage of the 2008 Big Ten Tournament
Official 2008 Big Ten Tournament page
Related posts